Join us for the 5th annual Cook-a-Thon on Sept. 21-22, 2018 & help nourish families living with life-threatening illnesses!
Teams and Individuals
Select A Team:
With Open Arms, we nourish body, mind and soul.
It's a simple notion: people who are sick should not be without food. Yet every day people in our community with life-threatening illnesses find themselves unable to shop or cook — and, often, without the support network to help.
That's where we come in. Open Arms of Minnesota is a nonprofit that grows, cooks and delivers free, nutritious meals to people living with life-threatening illnesses in the Twin Cities.
We believe that
food is medicine
, and our work matters to the health outcomes of our clients. With the help of 7,300 volunteers, we'll cook and deliver more than 600,000 delicious meals this year to people living with life-threatening illnesses, such as cancer, HIV/AIDS, multiple sclerosis and ALS (Lou Gehrig's disease), as well as their caregivers and dependents.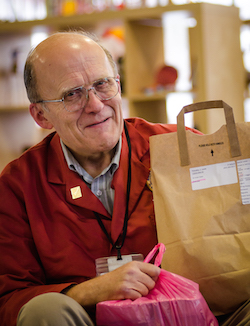 Your support of the Cook-a-Thon makes a huge difference for neighbors in our community:
​- $3,120 can provide a client with an entire year's worth of healthy meals
- $1,680 can provide a month's worth of nausea care packs, full of easy-on-the-stomach foods, for all of our clients experiencing nausea as a result of chemotherapy or other medical treatments
- $500 can provide five insulated delivery bags that ensure that client meals remain at a safe temperature during delivery
- $240 can provide a client, their caregiver and two children with a week's worth of meals
- $60 can provide a client with a week's worth of nutritious meals
- Just $5 can provide a delicious meal to nourish a neighbor in our community!
Learn more about:
Volunteering>>
Receiving meals>>
Donating>>
Hear from our clients and Executive Director about how Open Arms of Minnesota nourishes neighbors living with life-threatening illness with healthy, delicious meals: