Join us for the 4th annual Cook-a-Thon on Sept. 15-16, 2017 & make a difference for Twin Cities families!
Teams and Individuals
Select a Team:
What is the Cook-a-Thon?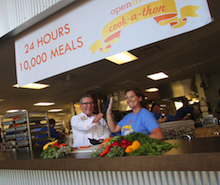 The Open Arms Cook-a-Thon is a 24-hour volunteer event where teams of six people will fill two-hour shifts to prepare, cook and package nutritious food for Open Arms of Minnesota's clients living with life-threatening illnesses in the Twin Cities. Our goal is to prepare a week's worth meals in just 24 hours!
Every member of each team will be asked to raise at least $125 to support their work, resulting in at least $750 raised to support Open Arms' clients from each team.
This event will get the Open Arms' kitchen at least a week ahead of production and add significant capacity to our weekly efforts to provide nutritious, delicious food to more than 1,000 people in our community!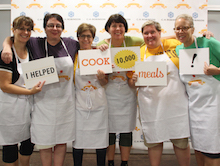 Event Details
The 2017 Cook-a-Thon is made up of two-hour shifts at Open Arms running for 24 hours straight from Friday, September 15 to Saturday, September 16. Expect treats, coffee, competitions and the chance to make a difference for families in the Twin Cities living with life-threatening illnesses.